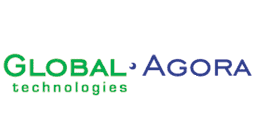 GlobalAgora-China Team
Nick Matzorkis, Founder and CEO, is the visionary behind GlobalAgora. Mr. Matzorkis conceptualizes, builds, and makes businesses work. Mr. Matzorkis' skills encompass President/CEO management experience, world standard hands-on Internet technology expertise, and a notable track record of marketing strategy successes. Previously, Mr. Matzorkis founded US SEARCH which became the number one people locator service in the world, a 100 most-visited web site, and the top distributor of public record information on the Internet. US SEARCH had its IPO in 1999 and is traded on the NASDAQ exchange.
Nicholas Rockefeller, Chairman of the Board of Advisors, is a partner is the international law firm of Perkins Coie LLP and an advisor to the RockVest Group. His clients include several multinational companies and many succesful technology ventures throughout the world. His securities practice includes litigation before the United States Supreme Court and a number of his transactions have been featured in leading periodicals. He is a member of the Council on Foreign Relations, the International Insitutute of Strategic Studies, the Advisory Board of RAND, the Pacific Council on International Policy, the Committee on Foreign Relations in Los Angeles, the Western Justice Center, and has served as a participant in the World Economic Forum and the Aspen Institute. He is a member of the Board of Visitors of the Law Schools of the University of Oregon and Pepperdine University and is active in the affairs of his alma mater, Yale University. He recently chaired a panel at the United Nations on E-Commerce and is a co-author of "Economic Strategy and National Security."
Mao Dong Sheng, Managing Director of the Wuhan Department Store Group, member of the People's Congress representing Hubei Province, and is also currently the Chairman of the National Trade Union of China, the industry body that represents a total of 20 groups of state-owned department store groups with a combined per annum gross revenues of RMB 40 bil ($5B U.S.). Mr. Mao, an economist by training has more than 30 years experience in the retailing industry.
William Choi, Founder, Chairman and Managing Director of Hudson Holdings has over 15 years experience in property development and retail operations in Hong Kong, the People's Republic of China and Macau. Hudson Holdings is publicly traded in Hong Kong and is a shareholder of Wuhan Plaza.
Peter Snowden, Chief Technologist, advisor to CEO. Mr. Snowden has served as Chief Technology Advisor to Mr. Matzorkis for a period of four years and has overseen the development of the patent-pending source code powering GlobalAgora-China's wireless Internet technology platform. Previously, Mr. Snowden developed original code which powered US SEARCH Internet servers, information aggregation and distribution channels, and call center integration.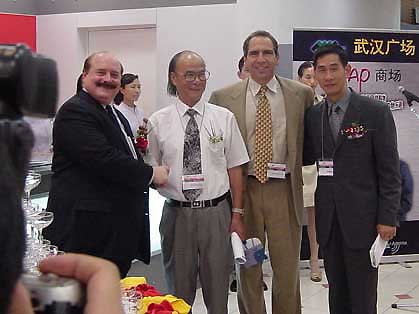 Nicholas Rockefeller - Mao Dong Sheng - Nicholas Matzorkis - William Choi
N.K. Low has 20 years' experience in banking securities analysis and operation responsibilities with the Singapore subsidiaries of various U.S. Financial institutions and multinational corporations such as Bank of America, KFC, Citicorp Scrimgeour Vickers and Bankers Trust. He is also the director responsible for several subsidiaries of OM Holdings Ltd., an Australian listed company.
Alan Mazursky, CFO, GlobalAgora, Inc., previously served CFO and VP Finance for US SEARCH.com. Prior to US SEARCH, Mr. Mazursky served as CFO for Hard Rock Cafe U.S.
Alfred Lo, Chief Business Development Officer, Alfred has 15 years experience in investment research, asset management and capital markets in Asia and Australia. He spent 8 years with Fidelity Investment in their Hong Kong, London, Sydney, and Singapore offices. Upon his return to Hong Kong in 1994, he set up Union Bancaire Assest Management Asia, the Asian fund management arm of the leading Geneva bases private bank, followed by establishing Impac Asset Management as a Founding Partner and Director. Until recently, he was the Chief Investment Officer for Asia at Rothchild Asset Management (Hong Kong) Limited.
Denis Ma, Consultant, has 25 years experience in shopping center development and management, merchandising, and import and export. Prior to Joining the Hudson Group in 2000 as Retail Management Consultant, he worked for three Hong Kong listed retailing groups: Sincere, Wing On, and Jusco, we he was responsible for business development, department store and shopping mall management and merchandising in Hong Kong, the PRC, and Taiwan.
Elena Choi, Director and Deputy General Manager of Wuhan Plaza, has extensive experience in the retail business. She has worked for Sincere Department Store Group in Hong Kong and managed the development of its new department store in Shanghai.
Melissa DePiero, Wuhan Operations Manager, liason. Prior to GlobalAgora-China, Ms. DePiero served as project manager and HTML programmer with Xdrive technologies in Santa Monica California. Previously serving as web department manager, HTML programmer, and designer for US SEARCH.com.
Jevin Hernandez, U.S. Operations and Sales Manager, GlobalAgora, Inc.. Previously, Mr. Hernandez served as VP Sales for iVideoNow in Sherman Oaks, CA. Prior to iVideoNow, Mr. Hernandez served as V U.S. Operations and Sales s for US SEARCH.com from 1995-2000.
Annie Xie, Wuhan Plaza WAP Counter Manager. Previously, Ms. Xie served as a manager for Exxon China in Hubei Province.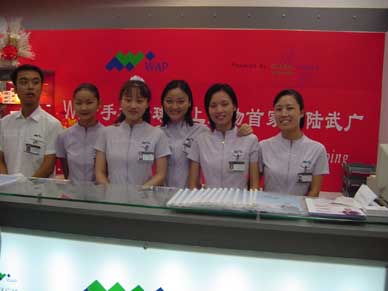 Wuhan Plaza WAP Shopping Support Team
About GlobalAgora | Demonstration | Opening Ceremony | Chinese News